Emperor Jones has made NY Times Top 10 lists by both of their top critics ~ Brantley and Isherwood ~ and continues its run at SoHo Playhouse. Ernest in Love has received great reviews and provided much delight to packed houses at Irish Rep.
JK Divorce Dance video was named #2 viral video and #1 comedy viral video by Yahoo.com. It also appeared on some of the year end entertainment shows in quick blips as a phenomenon of the year.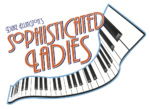 And now I am onto "Sophisticated Ladies" to begin in Feb and casting a week from now.
EVERYBODY have a great 2010.