Other Productions

New Girl In Town


But there are some charming numbers, they include the father's wistful ode to his daughter, Anna Lilla, and the rousing opening number "Roll Your Socks Up" . . . the choreographer, Barry McNabb and the designers make resourceful use of the space.
– Rooney, The New York Times

Invigorated by Barry McNabb's space maximizing choreography, this revival makes a case for a second-tier show, she's quaint, but there's life in the old girl yet.
– Adam Feldman, TimeOut New York

One of this outing's best numbers is the barroom mock-weeper "Sunshine Girl"- not only does Barry McNabb stage it snappily (as he usually does when handed an Irish Rep musical)
– David Finkle, Theatermania.com
The choreographer, Barry McNabb, manages to insert a couple of surprisingly big numbers on the Irish Rep's tiny stage, blending early 20th-century dance steps into some surprisingly rousing interludes.
– David Barbour, Stagemagazine

---
Take Me Along
New York Drama Desk Nomination ~ Oustanding Revival of a Musical

Choreographer Barry McNabb has staged the musical numbers with compact invention.
– Simon Saltzman, CurtainUp.com
Barry McNabb's choreography finds ways to delight even on the postage stamp of a stage.
– Frank Scheck, NY Post
Barry McNabb's choreography is a doozy and danced to the nines by happy feet.
– Eugene Paul, Theatrescene.net
Compactly and colorfully conveys the innocent optimism.
– Jennifer Farrar, Associated Press
… and the choreography by Barry McNabb is vintage dancing at its best.
– Oscar Moore, TalkEntertainment.com
---
Joseph and the Amazing Technicolor Dreamcoat
Connecticut Critic's Circle Nominations ~ Outstanding Director / Choreographer

Most happily, the Darien production is a grand slam for Barry McNabb, the director and choreographer… Mr. McNabb's dances and dancers are smashing. The very appeal of the production is in how it transmits ingenuousness and a lack of slickness altogether compatible with the story's intentions, side by side with a choreographic explosion that epitomizes the best of Broadway.
– Alvin Klein, The New York Times
---
Dancing At Lughnasa

The dancing in Lughnasa goes from ecstatic to demented, expressing sexual longing one minute and scary release the next. The famous scene where the five unmarried sisters unwind into a dancing torrent brings tears of joy it's so rich with realized character.
– Christopher Rawson, Pittsburgh Post-Gazette
And then there's Barry McNabb choreography for the play's most famous sequence . . . that is so joyous it's moving.
– Ed Blank, Pittsburgh Tribune-Review
Since music and movement have a significant role in Lughnasa, Barry McNabb's choreography deserves a special nod of gratitude.
– Doug Shanaberger, Observer-Reporter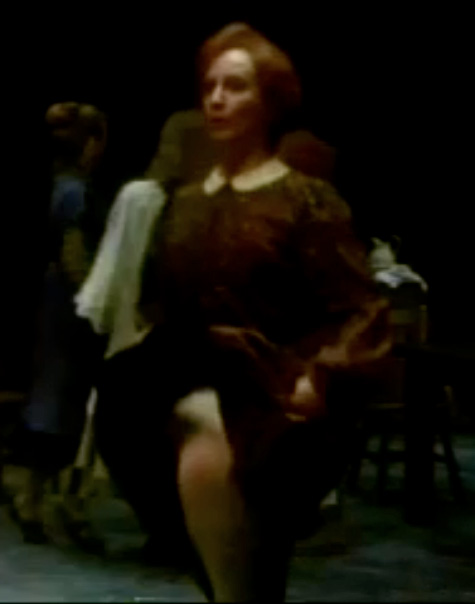 ---
It's A Wonderful Life
5 Barrymore Nominations~ Philadelphia, Pennsylvania

The production is richly realized. . . It's altogether believable given Barry McNabb's attention to detail in his direction of the show.
– Howard Shapiro, Philadelphia Inquirer
The Prince production aims to please its audience, and it succeeds. Everyone leaves the theatre smiling.
– Rick Cohen, Broad Street Review
A Wonderful show to remind us what this season is about.
– Shaun Brady, Metro * Philadelphia
---
La Cage Aux Folles

The Cagelles offer up countless pulse-racing dance numbers, create a safe haven for us to embrace innocent enchanting illusions. La Cage scores an impressive win. Four Stars.
– Tamara Le, Foster's Online
Special recognition goes to choreographer. Barr McNabb.
– GayOgunquit.com
I don't know how Barry McNabb did it, the choreographer… when Les Cagelles open the floorsho with 'We Are What We Are,' we bu into the illusion that they're all girls.
– Nancy Grossman, Broadwayworld.com
---
Anyone Can Whistle

Anyone Can Whistle is that rare Sondheim bird, a dance show with big Jerome-style narrative ballets (Herbert Ross did the original). Choreographer Barry McNabb stages them with flair, whipping up inventive combinations that fill the small stage like Gower Champion's 42nd Street.
– Jan Stuart, New York Newsday
The music is still bewitching and tantalizing – resourceful staging, particularly the spritely choreography by Barry McNabb…
– Clive Barnes, New York Post
---
Box Office of the Damned

For those in search of lighthearted fun, Box Office of the Damned!, has just the ticket.
– Lawrence Van Gelder, The New York Times
It also suggests a limitless enthusiasm which is transmitted, doubtless through the agency of its director, Barry McNabb to its young cast.
– Clive Barnes, New York Post
As directed by Barry McNabb… the show achieves some exhilarating moments of polished perfection!
– Glenda Frank, Chelsea Clinton News